Contact
Blog
Brick Sizes
by Anna Palmer

---
Posted on February 15, 2023 8:02 AM
---
Brick Sizes
Not many people realize that there are different brick sizes to choose from. Cherokee Brick specializes in different brick sizes depending on your project. Sometimes the location determines which brick size or brick sizes you will need. Whether you're planning a new home build or a renovation, you'll want to make sure that you get the most out of your investment. A big part of maximizing the efficiency of your design is choosing the right brick size to match your needs. Whatever your preference, you can count on Cherokee Brick to deliver the perfect solution for your project.
Here are some of the brick sizes that we produce and supply at Cherokee Brick:
Modular
Modular brick sizes are among the most common types of brick in use, as they are designed to offer a wide range of bond patterns. Designers can create more efficient designs and layouts with this brick size that minimize the number of bricks needing to be cut to accommodate the design requirements.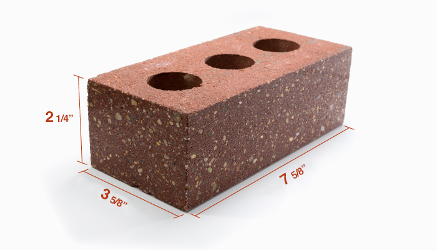 Modular Brick Size
Queen Brick Size
You can use 5 queen size bricks as opposed to 7 modular bricks on one square foot of wall. Queen brick size gives you more value for your money in exchange for flexibility. Since the queen brick size has a larger face, they require less mortar and a shorter installation time.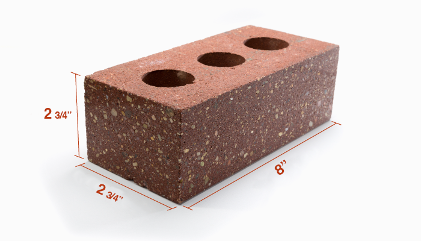 Queen Brick Size
Engineered (Modular and Non-Modular)
Of all our brick, engineered brick provide the greatest structural integrity because they are produced in exceptionally hot kiln temperatures allowing the ceramic bonds to form more densely, locking out moisture and offering increased load-bearing properties. Engineered brick size is ideal for commercial projects.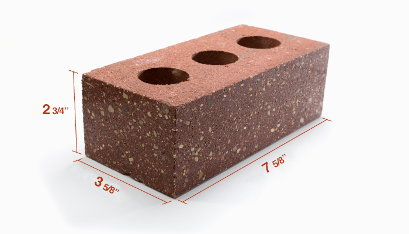 Engineered Brick Size
Thin Brick
Thin Brick is simply just the face of the brick. Thin brick size is typically used for indoor projects because a full-size brick would be too heavy or cumbersome for a brick kitchen backsplash, accent wall, or other decorative option. Thin brick is also available in any of our colors and sizes at Cherokee Brick.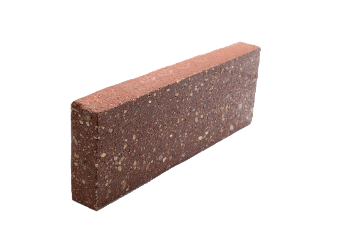 Thin Brick Size
Custom Sizes for Commercial Applications
Cherokee Brick is unique because we are fully equipped to produce custom brick sizes in quantity depending on the size of the project. Commercial developers appreciate our customization option, flexibility, and precision in our brick manufacturing process.
As you can see, Cherokee Brick offers a wide range of brick sizes for any construction project, no matter how big or small. We pride ourselves on offering the human touch when it comes to brick manufacturing. Our process is innovative and ensures the highest level of consistency and quality. Making the best brick does not come from machines, but from human knowledge and care!
We offer over 100 different varieties of brick sizes and in a broad range of colors, styles, and textures, so you are sure to find the perfect solution to meet your needs.
If you're not in the Macon, Georgia area, please contact one of our regional distributors for assistance with your project. Otherwise, for information about our products and services, or give us a call at 877-943-5068 today!