Contact
Blog
What Makes Brick a Superior Building Material?
---
Posted on August 30, 2022 2:57 PM
---
What Makes Brick a Superior Building Material?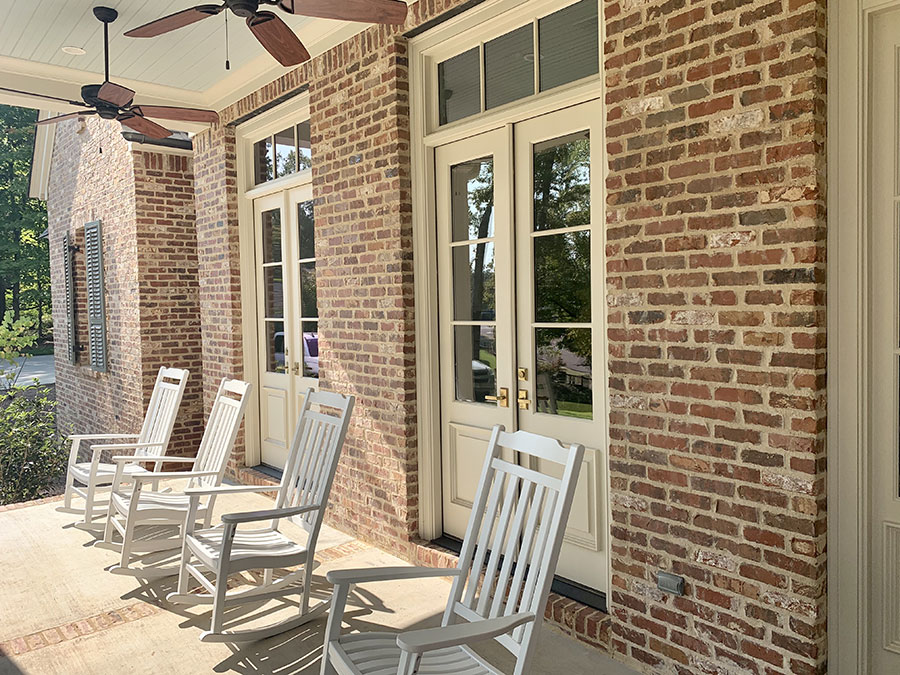 Take a look at the homes around you. You will see that most homes are either made of brick or at least have some brick incorporated into the building. That is because brick is a superior building material. When it comes to your own home, above all, you want to feel safe. Brick is one of the best building materials available. Bricks can be used for retaining walls, houses, businesses, and just about anything else!
Brick are made from clay and shale fired through a kiln at up to 2000 degrees. The reason the brick turns into such a durable material is that the clay/shale unit goes through a vitrification process in the kiln, which enables the clay particles to fuse.
This fusing process makes brick a naturally superior building material. Stronger than even concrete, it doesn't rot, dent, or need to be painted, and it will never tear or be eaten by termites! Its modular units and variety of shapes have resulted in beautiful structures in just about every architectural style, ranging from Colonial to Victorian to Post-Modernist. It is one of the few materials that can look better with age. Brick also absorbs noise, giving it an acoustic advantage over other materials – especially helpful in densely populated areas.
From enhancing your curbside appeal to increasing the value of a property, the benefits of brick far outweigh the initial cost. Here are the top 5 reasons that brick homes are superior:
Weatherproof- since bricks are a heavy and sturdy material, homes are better protected with brick. Protection from weather and heavy winds is important, especially during storm season in Georgia! Brick homes are more likely to withstand heavy weather like tornados and hurricanes, which are both common in Georgia during the storm season. At Cherokee Brick, we consider the importance of safety when building a home with brick, especially when it comes to weatherproofing your house. Bricks are also waterproof, unlike wood. Wood tends to absorb water and expand, making it a lower quality building material than brick.
Soundproof- whether you have brick on the exterior of your home or interior brick walls (or both), brick is a better material to use as a sound barrier. Privacy is an important issue when it comes to enjoying your home and where it is located, and the sound barrier of brick can help with that, whether it is to block outside noise or noises within the home.
Sustainable- bricks are sustainable, meaning that they are sourced from the earth. Since they are sourced from the earth, bricks are recyclable. Recycling materials is more important now than ever, and our materials are sourced straight from Georgia and Mississippi, so choosing Cherokee Brick when building your home, you can make a difference!
Stylish- everyone loves the look of a beautiful brick home. A brick home is such a classic and timeless look. No matter what, you can style around a brick and turn your home into a traditional home or a modern one!
Customizable- with Cherokee Brick, every brick option is customizable, meaning that we can make custom colors, shapes, and sizes for all your brick needs.
Though these were the top 5 reasons that brick is a superior building material, here are a few more!
Better return on investment
Virtually no maintenance for 100 years
Lowers insurance cost
1-hour fire rating
Rot and mold resistant
Improves energy efficiency in your home
Each reason for brick speaks for itself and can stand alone to attest against other building materials, but the bottom line is that brick is the superior building material for any building project you can think of! Brick is sturdy, weather & sound resistant, sustainable, stylish, and customizable. Brick also gives you more bang for your buck, is low maintenance, and is energy efficient! There is no better building material than brick, especially Cherokee Brick.
Cherokee Brick is proud to carry on the tradition laid by generations of brickmakers in delivering construction solutions that will withstand the test of time. Check out all of the options available to you and your next project…